By Ben Grant
August 31, 2022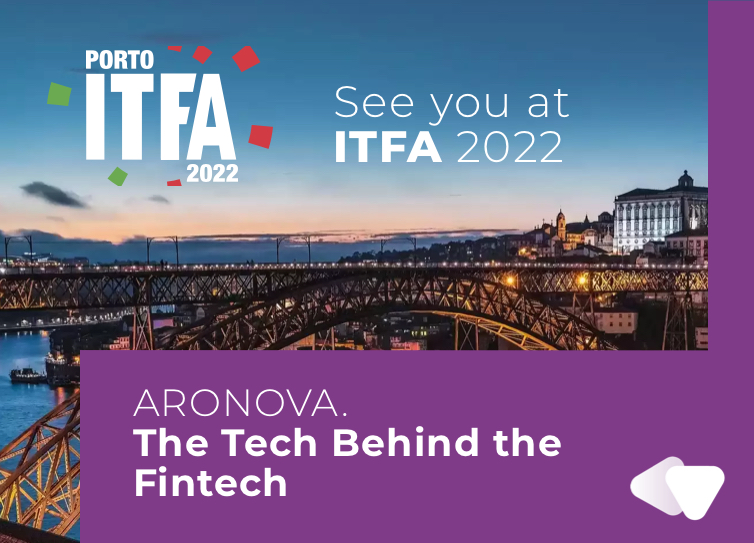 They say necessity is the mother of invention. Indeed, as proverbs go it has more than a ring of truth to it in these economically uncertain times. Just as the pandemic accelerated digital transformation across financial institutions, it's a fair bet that today's challenges will lead to new ideas and innovations too.
To find out what these might be, I'm heading to Porto on September 7 for ITFA's 48th Annual International Trade and Forfaiting Conference, where some of the brightest minds in global finance will be sharing their insights and knowledge.
Authoritative speakers to inspire the trade finance market
Conference organisers have put together an impressive programme of debate and discussion, which is sure to inspire and spark different approaches to supporting businesses in a turbulent era. As you can imagine, with our focus at Aronova on using technology to help our partners transact safely and effectively whatever is happening in the market, this is a topic close to our hearts. For instance, day one's afternoon panel session, Dealing with extreme volatility in 2022 and beyond. The C-suite speaks, features influencers Souleïma Baddi, the CEO of Komgo, Natasha Condon, Global Head of Core Trade within Wholesale Payments at JPMorgan Chase, Christophe Meurier, CEO of Financial Solutions at Willis Towers Watson, and João Rosado, Head of Corporate Banking with Banco Finantia.
At a Unitize2020 event just after the first wave of the Covid pandemic, Souleïma described how the external challenges of coronavirus and fraud had accelerated the adoption of digital tools in trade finance. She said there was "no more debate" around moving to digital and that it had become a "must-have" to rapidly onboard clients.
With those thoughts in mind, it's going to be fascinating to hear how things have progressed in the past two years and what strategies are being deployed now in the face of new challenges. Perhaps Natasha Condon's comments at another event in late 2020 might offer some clues.
An industry with the ability to respond in a crisis and evolve at speed
Speaking to Trade Finance Global, Natasha outlined how the sector had evolved over the course of her career, expanding its remit from liquidity and payment risk mitigation to driving sales growth, fostering more effective competition and funding ESG initiatives.
Crucially, she outlined the role of modern technology: "Now you see clients focussing more on digital efficiencies, for example – the growth in shared service centres has forced that issue because now you often have one person in one market managing a huge complicated global portfolio of trade instruments and they've got to have digital solutions or it's impossible."
If Natasha's and Souleïma's astute observations are anything to go by, it's clear that the market has an innate ability to rise to challenges and meet business needs whatever the economic environment.
Facing future threats through insights, modern tools and collaboration
As inflation and the cost of doing business rises, so too will the risk of fraud and defaults. As such, another one of the many interesting sessions is set to be the final day's panel, Fraud – what are the latest techniques and technologies to fight the many facets of trade-based fraud?, moderated by Shannon Manders, Editor of Global Trade Review.
Featuring legal and anti-fraud big hitters including Brian Perrott, of HFW, and Michael Hogan, who heads up MonetaGo's UK operations, the session is bound to offer useful insights on risks facing trade finance providers through the coming years of global turbulence and transition – and, importantly, what mitigation strategies might look like. One part of which is likely to involve having real-time or near real-time visibility of clients and the wider market.
Undoubtedly, the event's wealth of speakers will have plenty to say about that and much more, not least an acknowledgement of the importance of connecting and partnering with peers across the sector. And that is why we're so excited about attending ITFA's Annual International Trade and Forfaiting Conference next month.
If you're attending, do look me up. I'd love to hear how the past two years have been for you and what you're planning for 2023 and beyond.
Ben Grant
Head of Partnerships, Aronova
Sources:
Porto ITFA 2022 Conference Programme
Unitize2020: Enterprise Blockchain Most Active Sector: Trade Finance
J P Morgan Talking Heads of Trade: Reflections on Core Trade in 2020
HFW Brian Perrott
MonetaGo About
- PREMIUM CONTENT PUBLISHED BY ARONOVA -
Subscribe for premium content
To continue reading premium content like this and to receive future notifications about articles from Aronova please sign up to receive our marketing communications.