By Ben Grant
March 11, 2021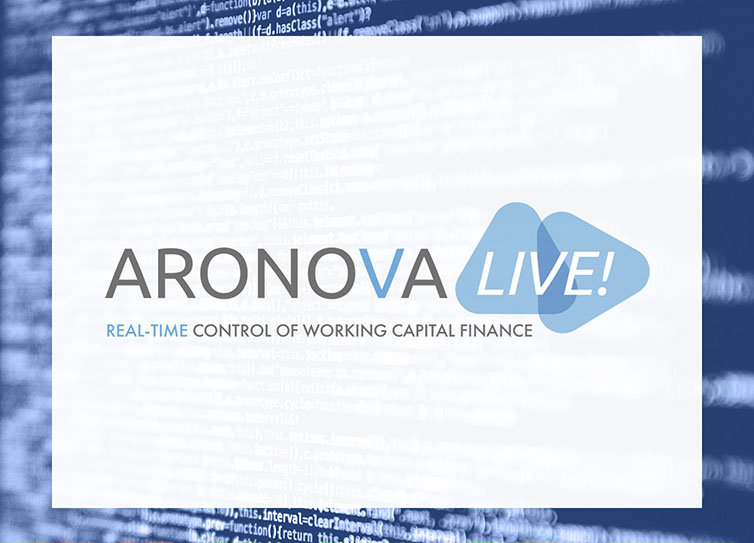 Our latest innovation gives those in charge of working capital finance access to a range of market-leading features. This provides more control, saves time and increases security. With Aronova Live! you have:
immediate assessment of invoice and supplier eligibility
access to instant decisions on acceptance into a funding programme for buyers/sellers
real-time processing of seller/buyer invoice data and eligibility
improved cash flow and optimised working capital positions
rapid access to collections and credit control analysis which frees capacity more quickly
full automation of processes, reducing operational risk
Ben Grant, Head of Partnerships, explains how Aronova Live! has been developed and tested with our global partners:
"We have a team of developers dedicated to continual innovation based on our global network of funding providers, banks, institutional investors, insurers and corporates. We know that those responsible for receivables programmes struggle with the risk, inefficiency and added cost of manual processes. Aronova Live! was developed in response to these issues and we know that those now using it have seen their operations benefit substantially."
Instant decisions and reduced fraud
Aronova Live! works by establishing a secure API connection between the data sources. This enables the near instant communication of changes (new records, changed records, closed records) to accounts receivable, accounts payable and credit collection data. In addition, other asset classes that can be expressed as an invoice such as portfolios of corporate loans, leases, credit cards can also be included in the data flow.
This makes it possible to calculate global debtor credit limits, assess invoice eligibility and process invoice purchases live and on demand. While not everyone requires this, we know that for some the ability to calculate availability or sell an invoice within minutes of processing is a major benefit. And it's not just improved efficiency, the technology also reduces fraud risk.
The API creates an uninterrupted flow of information directly from the originating invoice platform or accounting package. With no manual intervention, data manipulation is less likely, resulting in improved programme security and better data integrity. Automation also takes some of the legwork out of Know Your Customer and anti-money laundering verification.
The importance of digitisation
The trend towards digitisation of trade receivables during the pandemic has accelerated as remote working has made paper-based processes even less viable, and injected urgency into financial service providers' previously slow-burning digital initiatives. As a result, digital financing flows multiplied across the entire financial services industry during 2020, helping working capital finance platforms reach a critical mass of user and transaction numbers.
We know that real-time technology will become the norm in the years ahead, but we're pleased to be able to offer this facility long before many others have even started to automate their manual processes.
You can learn more about Aronova Live! here or contact us to request a demo. 
- PREMIUM CONTENT PUBLISHED BY ARONOVA -
Subscribe for premium content
To continue reading premium content like this and to receive future notifications about articles from Aronova please sign up to receive our marketing communications.