By Ben Grant
September 19, 2022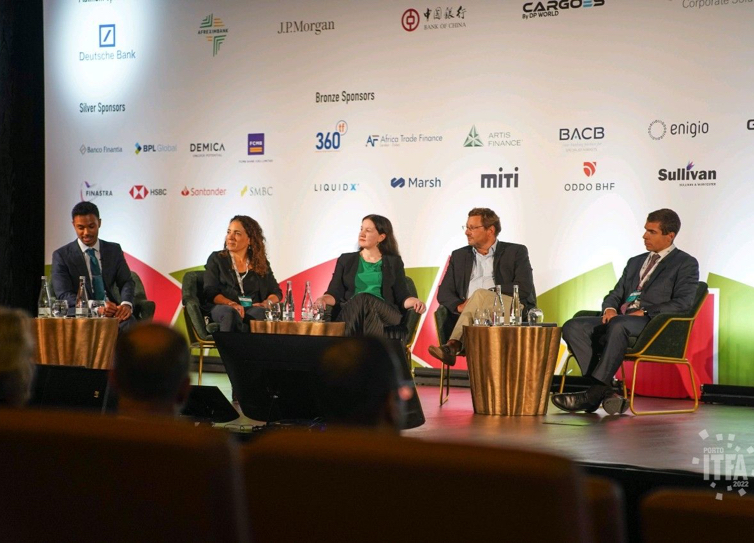 In early September, I travelled to Porto for ITFA's 48th Annual International Trade and Forfaiting Conference, an event held in high esteem across our sector. Not only did it offer a great opportunity to catch up with some of Aronova's existing partners, it also provided a chance to gain new perspectives on how financial institutions are responding to the myriad challenges facing them and their clients in these trying times.
It didn't disappoint.
Together the audience and speakers amounted to more than 320 top-of-their-game industry professionals. And if the level of knowledge and insights being shared was considerable, then the potential to forge new relationships with prospective partners and clients was every bit as significant.
In fact, it's difficult to think of a more finely tuned and relevant speaker programme, with discussions covering topics close to our hearts at Aronova. These included the whole gamut of trade finance instruments such as letters of credit, receivables and payables finance, not to mention insurance and fintech capabilities.
Making sense of geopolitical challenges from a financial world perspective
Perhaps unsurprisingly, there was a big focus on geopolitics and the impact of global events like the war in Ukraine, the climate crisis and inflation. John Raines, Director of Market Intelligence at S&P Global, gave a tour de force talk on "The Changing World in 2022", exploring the balancing act nations are having to perform in terms of the cost borne by their own unique stances on the Eastern European conflict.
Watching the news and trying to comprehend today's challenges feels like a nigh on impossible task. But hearing them distilled by a range of exceptional speakers who are truly expert in their fields certainly helped.
From commodities market experts to insurance specialists, the overarching message was that 'yes, we live in fluid times and the near future is hard to call, but institutions have hope that stability will return over the next 12-24 months' as a result of policy decisions on energy and inflation.
This unpredictability was covered in a brilliant session dealing with extreme volatility in 2022 and beyond – expertly moderated by Deepesh Patel, of Trade Finance Global, with a panel comprised of Souleïma Baddi, CEO Komgo, Natasha Condon, Head of Core Trade within Wholesale Payments, JPM Chase, Christophe Meurier, Financial Solutions, Willis Towers Watson and Joao Rosado, Head of Corporate Banking, Banco Finantia.
The panel described how Covid had provided lessons in approaches to risk and supply chain performance diversification. It then looked at the case for digitisation, pondering the enormity of investment decisions and the positive role new tools can play in delivering against compliance requirements and growth objectives.
And while claims were being paid in an increasingly sophisticated market, Christophe cautioned that it remained paramount to ensure the right insurance products were provided to the right businesses. Joao, meanwhile, explained how banks were keen to keep funding flowing but were moving up the quality scale to achieve desired levels of security. But this potentially impacts upon SMEs who, said Natasha, were always likely to suffer more than large corporates in tough times. The solution for Souleïma lay in new tools and platforms that allowed faster decision making and greater interoperability between systems. All in all, an engrossing discussion.
'Insuring' a good outcome with modern risk analysis tools
As a big supporter of insurance in the trade market, I was also keen to attend the panel on credit insurance as an effective risk mitigant, featuring an illuminating conversation between Simon Bessant, Board Director, Global Head of Insurance, The Texel Group, Lise Kessler, Managing Director, Global Head of Credit Risk Insurance, Crédit Agricole CIB, James Wilson, Head of Credit and Political Risk, UK & Europe, The Hartford, and Mike de Bresser, Commercial Director, Allianz Trade.
The session explored various stress points in the market and how its maturity was a source of resilience, which was evidenced by its strong record for paying out "without blinking" on trade credit products. It was also obvious that modern tools were enabling smarter risk analysis and helping the sector better prepare for periods of volatility.
Elsewhere at the conference, it was fascinating to see how companies are grappling with ESG. The takeaway learning seemed to be that business is ready to deliver on this front but needs to better understand the process and frameworks.
One example of a business taking ESG seriously came from speaker Marilyn Blattner-Hoyle, Global Head Trade Finance at Swiss Re, Corporate Solutions, during the session titled Going for Green! ESG and Sustainability in Trade Finance and SCF.
Marilyn talked about how her business had truly integrated ESG into everything they do and had brought in a 45-tonne annual CO2 limit for flights for a team of 15. Which is pretty tight when you consider the carbon output of a business class flight from Zurich to Singapore was 10 tonnes, she explained.
A legacy of collaboration: ITFA 2022's ripple effect
Alongside knowledge gained there were plenty of opportunities to chat about innovation and explore ways to collaborate with industry peers. I had some fantastic conversations with teams from Trade Tech, SupplierPlus and Finverity amongst others – all of which are doing fantastic work in accelerating solutions for the trade finance ecosystem.
ITFA's annual conference might have been a three-day event but its positive ripple effect means it actually runs for much longer, thanks to the dialogue I'm looking forward to continuing with fellow delegates in the months ahead.
I went to Porto with high expectations and it didn't disappoint. It was a truly excellent, welcoming, accessible conference and whether you were attending as an exhibitor or a visitor, there was an incredible amount to be gained, professionally and personally.
Here's to the ITFA 2023 conference. Now, does anyone know the Bishop of Norwich? (you had to be there…)
Ben Grant
Head of Partnerships, Aronova
Sources:
Do you know the Bishop of Norwich?
Image Credit:
ITFA Linkedin
- PREMIUM CONTENT PUBLISHED BY ARONOVA -
Subscribe for premium content
To continue reading premium content like this and to receive future notifications about articles from Aronova please sign up to receive our marketing communications.